GoFa® ONE STEP FORWARD
GoFa offers a maximum Tool Center Point (TCP) speed of up to 2.2 m/s,* faster than other cobots in its class. GoFa can perform more operations in a set period than competing robots. Another key feature is GoFa's reach which, at 950mm, outperforms other 5kg cobots by around 12 per cent. With a 70 per cent longer reach than ABB's YuMi single arm robot, GoFa enables loads to be picked up and moved over greater distances, making it an effective solution for a variety of applications, from machine tending and material handling through to packing and packaging. With the ability to accurately pick up, move and place objects over greater distances than other robots in its class, GoFa can help to reduce the number of cobots that may be needed in a single space.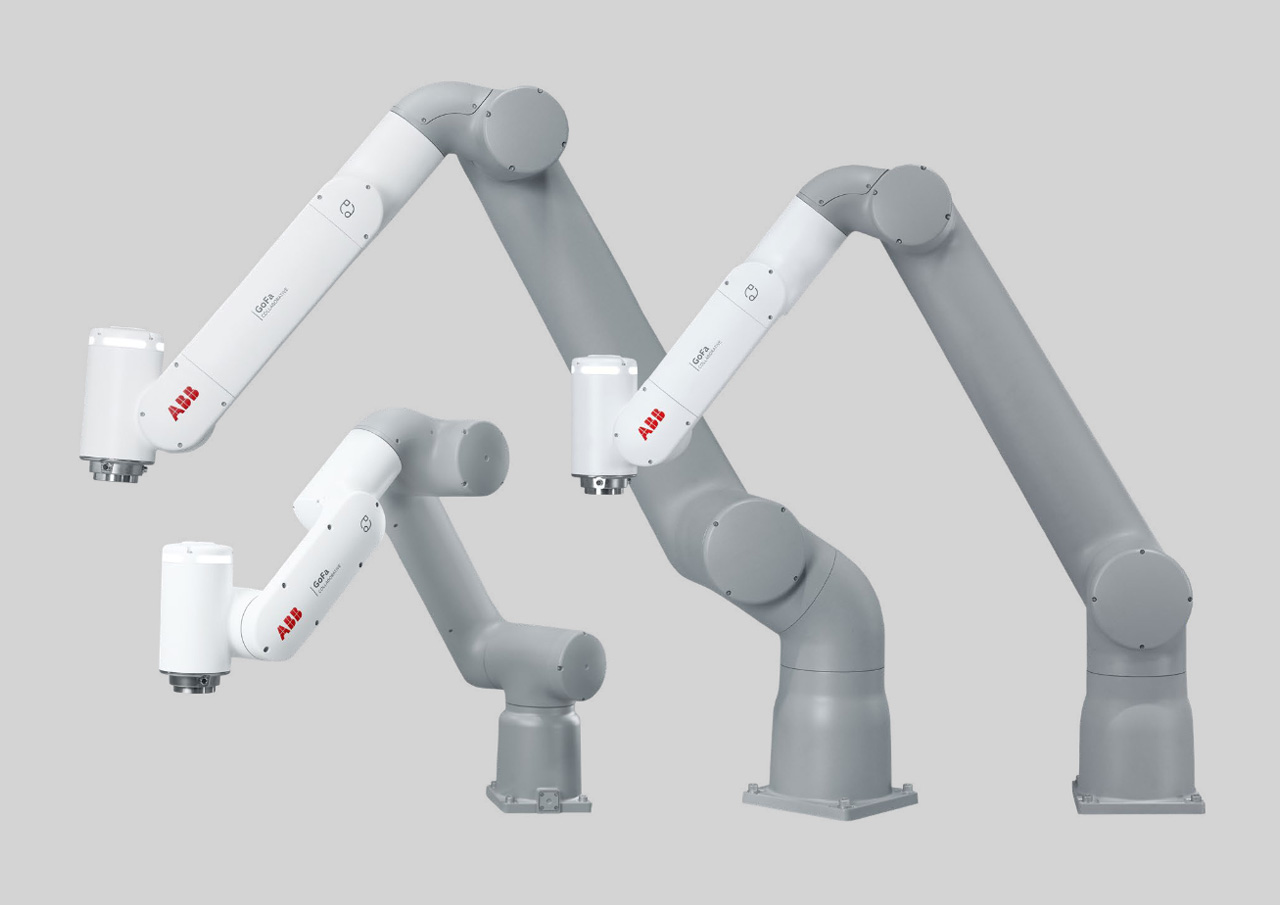 Key features:

5kg payload and 950mm reach. Payload 5 kg, 10 Kg and 12 Kg.
Reach 950 mm, 1270mm and 1520mm.
Max Tool Center Point (TCP) speed up to 2.2 meters per second
Small footprint, lightweight manipulator and ability to mount in any direction (wall and floor mount etc.).
6-axis agility.
Standard flange on axis 6.
Cobot label and white/gray color scheme.
Integrated joint design with torque and positioning sensors in each of GoFa's six joints for superior power and force limiting to offer safe contact with humans.
Interaction status light to communicate cobot status - white (standby)/ green (running production) / yellow (programming) / red (stop).
SafeMove Configurator app on the ABB FlexPendant.
Powered by OmniCore™ controller with best-in-class motion control functions.
PL d certified safety functions built in. Safety certified PL d Cat 3.
IP54 protection.
Ease of use: quick calibration and configuration.
Ease of use: Wizard Easy Programming.
Ease of use: Lead-through programming by 'grabbing' anywhere on the robot.
Ease of use: Arm-Side Interface (ASI) on axis 6.