SWIFTI. COLLABORATIVE SECURITY
Offering speeds of five meters per second, SWIFTI™ is a fast and accurate collaborative industrial robot for payloads up to 4kg, designed to bridge the gap between collaborative and industrial robotics. Based on ABB's class-leading IRB 1100 industrial robot, which offers best in class speed and accuracy, the CRB (Collaborative Robot) 1100 SWIFTI combines a payload of 4 kg and reach of up to 580mm with the benefits of safe collaborative operation and ease of use. This will open new possibilities for enhanced productivity in a wide range of applications, from manufacturing to logistics and beyond, and enable more businesses to embrace automation.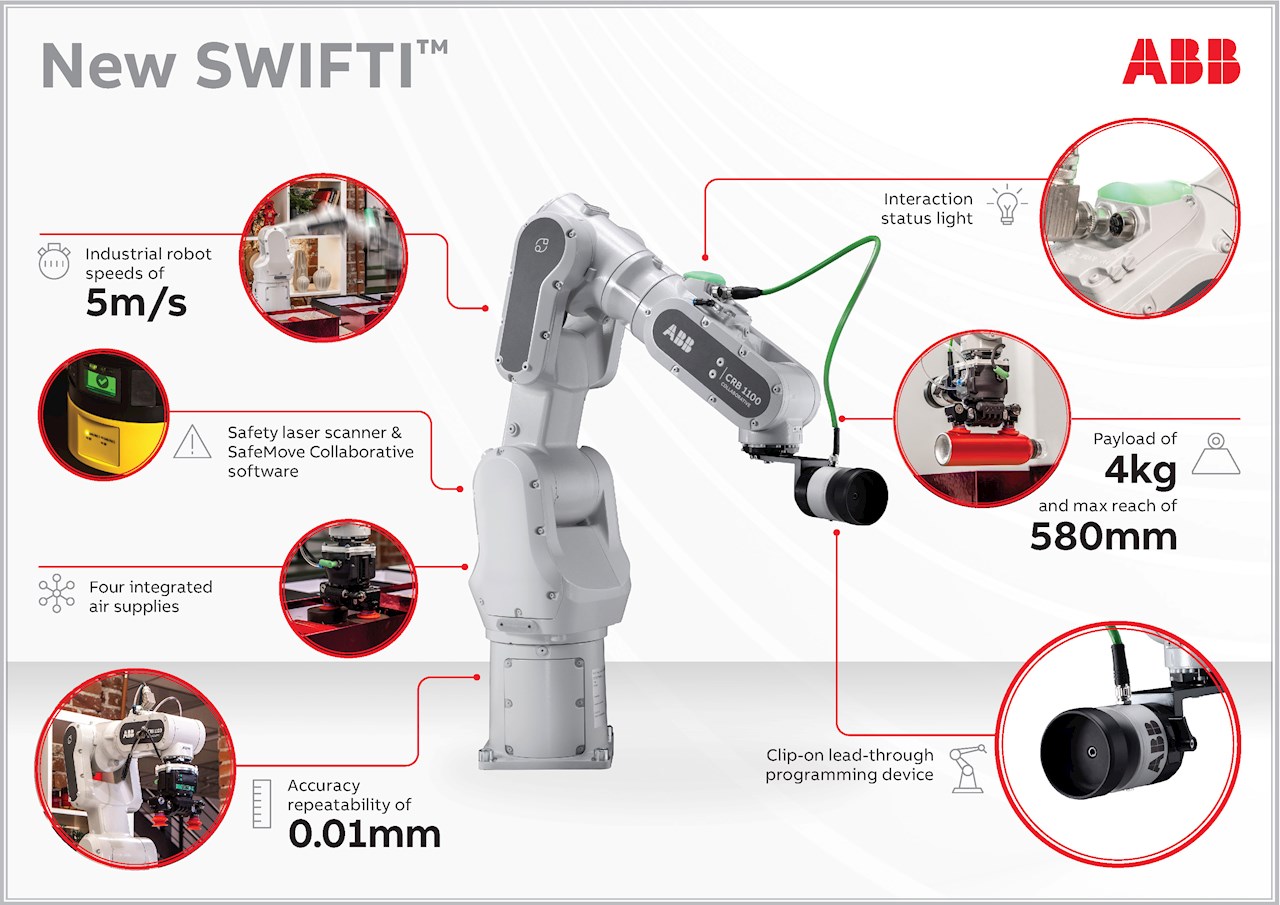 Key features CRB 1100:

4kg payload and 475mm or 580mm reach.
Fast performance – industrial robot speed of up to 5 meters per second.
Accuracy / position repeatability of 10 microns.
Small footprint, lightweight manipulator and ability to mount in any direction.
Powered by OmniCore™ controller and FlexPendant.
Four integrated air supplies.
ISO flange for easy mounting of tooling.
Cobot label and white/gray color scheme to differentiate CRB 1100 and IRB 1100.
Safety laser scanner and SafeMove Collaborative software.
Interaction status light to communicate cobot status.
SafeMove Configurator App on the ABB FlexPendant.
Safety certified PL d Cat 3.
IP40 protection.
Ease of use: quick calibration and configuration.
Ease of use: Wizard Easy Programming.
Ease of use: Clip-on lead-through programming device.